10: Miles Kendrick, Kansas, Junior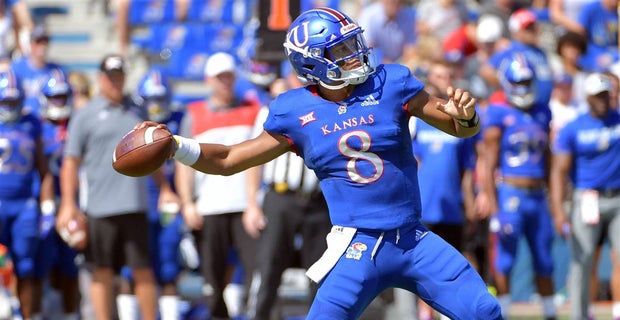 2018 Stats: 11-19 passing for 100 yards and 1 touchdown. 16 rushing attempts for 47 yards and 1 touchdown.
Kendrick played in a backup role in 2018 and did not play in 2019. He is a dual threat quarterback and was listed as a three star recruit by 247sports, and he is a decent decision maker and does not make a lot of mistakes. My concerns about Kendrick, however, are that he has not played much, he is undersized (5'10, 205 lbs), and he does not have talent around him. He also does not have the potential to carry his team. He is still in a battle with Thomas MacVittie, but he is projected to win that competition – my take on Kendrick is he is an average player on a below average team.
9: Jarrett Doege, West Virginia, Senior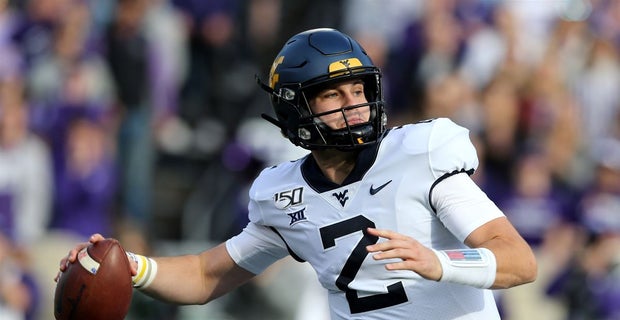 2019 Stats: 79-120 passing for 818 yards, 7 touchdowns and 3 interceptions. 11 rushing attempts for -41 yards and 0 touchdowns.
Doege has experience as a transfer from Bowling Green, where he was a starter. Last year, he won the starting job and played pretty well in four games. He is a pro style quarterback at 6-2, 200 pounds and was rated as a three star quarterback by 247sports. Another quarterback with not a lot of talent around him, I think Doege will have a decent year and may surprise people, but in a pretty stacked Big 12 quarterback room, I have him ranked 9th. He is a good decision maker with experience, but in an offensive conference, not having weapons around you can be fatal.
8: Skylar Thompson, Kansas State, Senior
2019 Stats: 177-297 for 2,315 yards, 12 touchdowns and 5 interceptions. 114 rushing attempts for 405 yards and 11 touchdowns.
A 6'2 and 210 pounds, Thompson is a dual threat quarterback, who was ranked as a three star recruit by 247sports. A quarterback with a lot of experience playing the Big 12 gauntlet, he has plus decision making and leadership. He has been praised for his leadership, and he brings back a strong receiving core, but K-State replaces all five offensive lineman. The reason Thompson is rated low is because he struggles with his accuracy, and he will struggle with that entirely new offensive line. For another year, Thompson will lead Kansas State to mediocrity. I like his leadership ability, but I do not believe he has the talent or the throwing ability to really succeed in the Big 12.
7: Max Duggan, TCU, Sophomore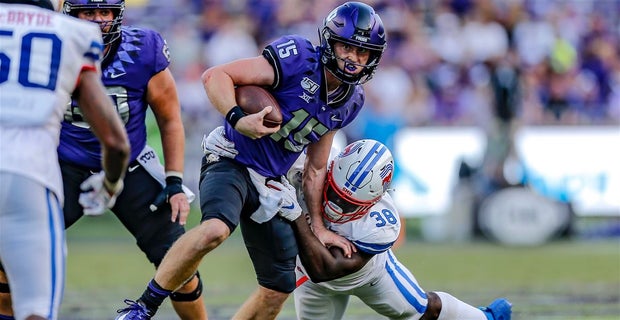 2019 Stats: 181-339 for 2,077 yards, 15 touchdowns, and 10 interceptions. 130 rushing attempts for 555 yards and 6 touchdowns.
Duggan played well at times as a freshman for a struggling TCU team. He showed a fierce competitive drive and leadership that is not often seen in freshman. As a 6'2, 190-lb, dual threat quarterback, the TCU signal-caller was ranked as a four star recruit by 247sports. Duggan has the potential to have a breakout year, which we saw at times last year. However, I think that he's one year away from that happening. TCU does not have a lot of offensive weapons, and Duggan still will suffer through some growing pains. He will eventually be a dominant quarterback in this league, but he still needs to improve. I believe he will build on his freshman season in 2020, but I do not believe he will have the breakout year that many project.
6: Alan Bowman, Texas Tech, Junior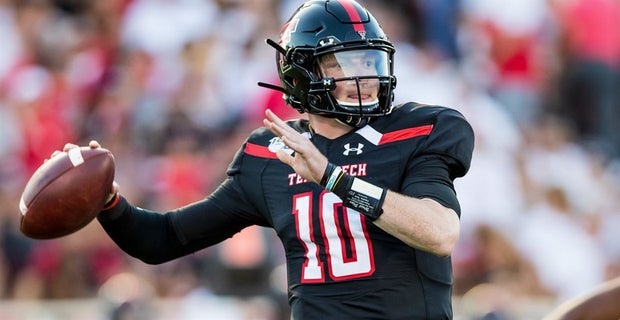 2019 Stats: 101-157 for 1,020 yards, 6 touchdowns and 3 interceptions. 7 rushing attempts for 14 yards and 1 touchdown.
Bowman played in only three games in 2019, but he had impressive numbers in the air raid offense. The former three-star recruit (247sports) has had to battle through injuries in his last two seasons. He is a 6'3, 210-pound, pro style quarterback The biggest question surrounding Bowman is his health. If he remains injury-free, I believe he will have a breakout year. He has all the talent and potential in the world to excel in a weak defensive conference. He is the perfect quarterback for the Big 12 because of his arm strength and accuracy. He does not have insane talent around him, but he has enough to pair with his talent. The only reason he is not ranked higher is because the Big 12 has great quarterbacks, and injuries are a question. A lot of experts rank him lower, but I believe Bowman will be dominant this year if he is on the field.
5: Spencer Sanders, Oklahoma State, Sophmore
2019 Stats: 155-247 for 2,065 yards, 16 touchdowns, and 11 interceptions. 139 rushing attempts for 628. yards and 2 touchdowns.
Sanders, a 6-2 195 ILBs dual threat quarterback who was a four star by 247sports, returns to Stillwater for his second year. His numbers were good his freshman yea,r and there is definitely talent to build off of. The main concern is the 11 interceptions, but I chalk many of those up to inexperience. He can run and throw at a high level, and he has talent around him coming back in Tylan Wallace and Chuba Hubbard. I have him at #5 because I think the guys in front of him are better, but I really think the top six on this list can finish in any order – that is how deep of a list this is. I look for Sanders to have a big year for the Cowboys.
4: Charlie Brewer, Baylor, Senior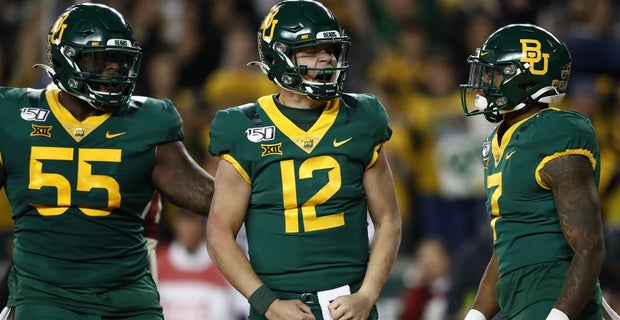 2019 Stats: 251-389 for 3,161, 21 touchdowns, and 7 interceptions. 147 rushing attempts for 344 yards and 11 touchdowns.
Brewer is a 6-1, 188 ILBs pro style quarterback, who was a three star prospect by 247sports. He is a fierce competitor with talent and I believe he will have a really good year, but there are multiple questions surrounding his 2020 campaign. First, how will he blend with a new coach in Dave Aranda? Many people believe his success was due to new Carolina Panthers' head coach Matt Rhule, and this is his chance to prove them wrong. Also, his offensive line really struggled last year, and he needs to be protected to succeed in 2020. He lost Denzel Mims to the draft, but he does have playmakers around him. I believe Brewer will have a great year based off of his competitive spirit and will to win. He is not the most talented guy on this list, and he may not have the most talented team around him, but I believe he has the most grit out of all the quarterbacks in the Big 12 and that is why I see him having a good year.
3: Brock Purdy, Iowa State, Junior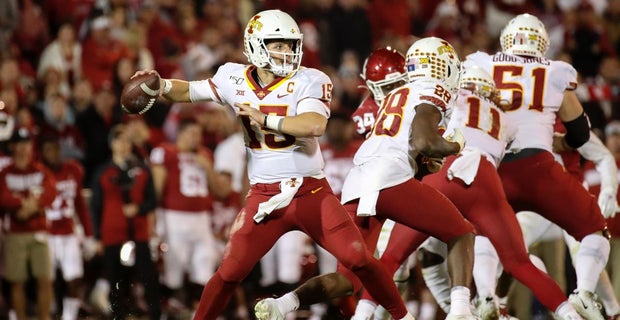 2019 Stats: 312 of 475 for 3,982 yards, 27 touchdowns, and 9 interceptions. 93 rushing attempts for 249 yards and 8 touchdowns.
Purdy is 6-1, 202 ILBs, pro style quarterback, who was a three star by 247sports. Purdy could be number one on this list. He is an absolute stud. The reason I have him at #3 is that he does not have the talent around him that Ehlinger and Rattler have, which limits his ability to put up big-time numbers. He has great accuracy and good arm strength. He is not known as a running quarterback, but he can do so effectively if needed. Look for another big year out of him at the helm of this Iowa State offense. He is proven as a talent and he is a good leader. Do not be surprised if Purdy is a darkhorse Heisman candidate.
2: Spencer Rattler, Oklahoma, Freshman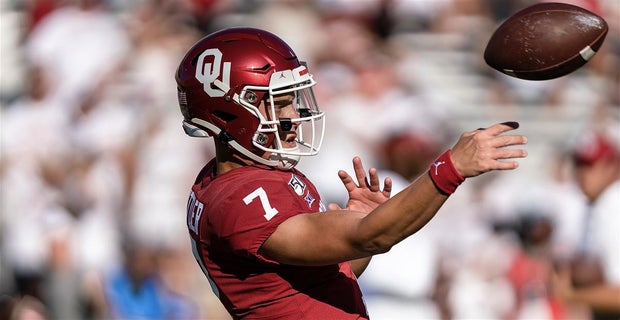 A five star rated by 247sports, Rattler is 6-1, 198 ILBs, and he was the number one pro style quarterback in the 2019 class. He is an absolute stud who can throw and run at high levels. He is inexperienced, but I believe that inexperience is helpful to him because he sat behind Heisman finalist Jalen Hurts and learned how to be a great quarterback and leader. The other thing that makes me optimistic about Rattler is the system and coach Lincoln Riley. Since Riley took over, his three quarterbacks have at least been Heisman finalists and two have won. The reason I rank him at two is because he is relatively unproven, and as much as I want to put him at #1 and believe he could be the best quarterback in the Big 12, I can not really justify it before he takes a snap in the 2020 season. That being said, look for a great year out of Rattler and the Sooners.
1: Sam Ehlinger, Texas, Senior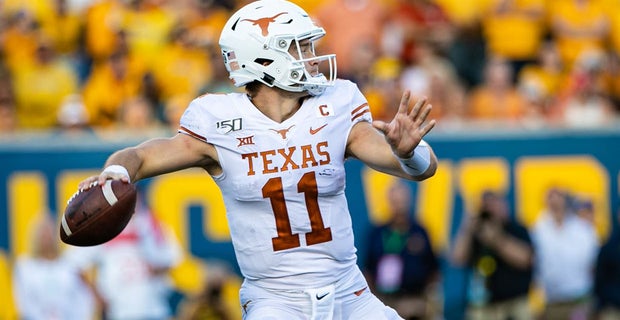 2019 Stats: 296-454 for 3,663 yards, 32 touchdowns, and 10 interceptions. 163 rushing attempts for 663 yards and 7 touchdowns.
Ehlinger is a 6-2, 230 ILBs, dual threat quarterback rated as a four star by 247sports. As much as I believe there really are six guys that could top this list, I put the most proven and most experienced quarterback at number one. Ehlinger has played in a lot of big games and made a lot of big plays in his career at Texas. The team underachieved last year, but his numbers were great, and I believe they will improve in 2020. I see no reason that he will not be a Heisman finalist. I would not definitively say he is the most talented quarterback on this list, but you can not coach experience. Ehlinger will have another big year in Austin, and hopefully he will prove me right and be the best quarterback in the Big 12.