The U Is Back
A one time football powerhouse, tossed into a pit of shambles and mediocrity throughout most of the 21st century. There have been moments of greatness, but never anything sustained. Every time the U looks good, everyone theorizes that they are back to their winning ways, just like in the 1980's. I am doing that right now. The University of Miami is back. They dominated Louisville on Saturday 47-34. They only won by 13, but this game never felt close. The defense did give up 34 points, but they forced three turnovers, which has become their niche. The turnover chain is what the new U is about. They are flashy, and they fly to the football. They bring to life the term "pressure defense". They have been doing this since 2017 though, so why are they back?
D'Eriq King that's why.
King was 18/30 for 325 yards, 3 touchdowns and 0 interceptions. He was not very effective running the ball, just 8 carries for 9 yards, but the Hurricanes did not need his legs, just his arm on Saturday. I am also very impressed with offensive coordinator Rhett Lashlee. In their first game against UAB, Miami ran the ball very effectively and did not throw much, but ran King more frequently. He adjusted against Louisville and opened it up through the air. I predicted Miami was going to run a lot, but I was wrong as they had a very effective aerial attack, while mixing in a very solid ground game, getting 134 yards from Cam'Ron Harris. I do not know whether Miami can return to their former glory in the coming years, but I do know the U is a force to be reckoned with in 2020.
Oklahoma State Needs Spencer Sanders To Be Healthy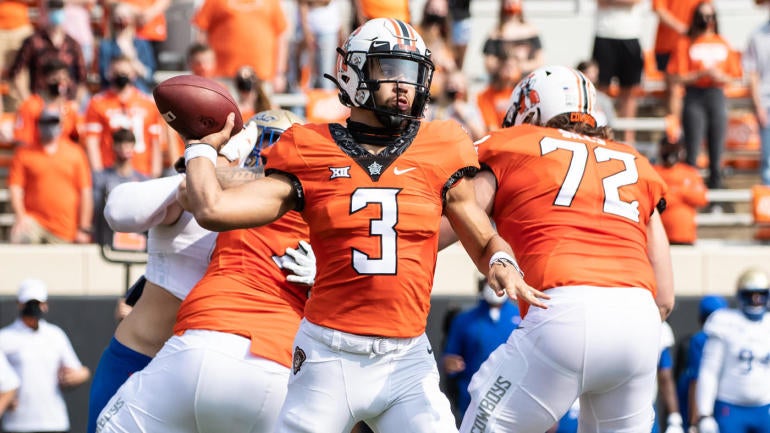 The high powered, highly praised Cowboy's offense looked abysmal against Tulsa on Saturday. An offense I thought would be among the best in the country this year could not get it together. They have a "big three" in Stillwater with running back Chuba Hubbard, wide receiver Tylan Wallace, and quarterback Spencer Sanders. Hubbard had 27 carries for 93 yards and 1 touchdown, Wallace had 4 catches for 94 yards and 0 touchdowns, and Sanders was 2/2 for 23 yards. Wallace was electric, Hubbard was good but could have been better, and Sanders was injured in the first quarter.
What should have been a blow out turned into a messy game for the Cowboys. Part of this was the poor offensive line play which gave up 6 sacks and were poor in run blocking. The other issue was the injury to Sanders. He is the least talked about in this 'big three', but a talented Sophomore who has experience and adds a dynamic component to the offense that his backups could not. Stillwater is known for good quarterback play, and head coach Mike Gundy is an offensive genius. If Sanders can stay on the field the Cowboys will be fine and I still believe will have an electric offense, but without him they really struggled.
The ACC Again Proves To Be Unpredictable
Another good weekend of ACC football left me perplexed at how these games unfolded. I thought Duke would cruise against a bad Boston College team, but BC won by 20. I also thought Pittsburgh would blow out a horrendous Syracuse team, but they only won 21-10. Wake Forest and NC State played a close 3-point game, seemingly cementing both squads as middle-of-the-pack squads with a solid offense. Miami-Louisville was relatively close while providing high-scoring entertainment, even though Miami was in control. And of course, I have to mention preseason favorites Notre Dame and Clemson, who blew out bad non-conference opponents in USF and The Citadel, respectively. Another weekend proved to me that this league is going to be really competitive this year except for Clemson. It is not necessarily the best football, but the ACC will boast some very fun and exciting football games.