Power Rankings
1: Oklahoma
To be the man, you gotta beat the man. And until they're dethroned, the Sooners remain #1 here. To stay there, they'll hope Spencer Rattler becomes the latest QB prodigy under Lincoln Riley, and playmakers aplenty populate the skill positions in Norman. They have plenty of talent to work with, and the Sooners should feature a loaded offense in 2020.
2: Oklahoma State
Chuba Hubbard is an absolute monster out of the backfield, and they may just have the offense around him to keep pace in the Big 12 this season. Quarterback Spencer Sanders was solid last season and looks to take another step forward, while his favorite receiver, Tylan Wallace, opted for another year wih the Cowboys.
3: Texas
Sam Ehlinger starts the season as the best quarterback in the big 12, although the development of Spencer Rattler for Oklahoma may change that. His Longhorns may not be 'back' just yet, as Texas looks good, but not great. The offense should be pretty good, but their defense that averaged over 30 points allowed per game must improve for the Longhorns to compete for a title.
4: Kansas State
Debuting a new coach last season, Kansas State went 8-5 and beat Oklahoma. They have to replace some production in the trenches, but Skylar Thompson is a fairly consistent quarterback not prone to making many mistakes. He should keep the Wildcats in a lot of ballgames.
5: Baylor
After nearly making the Playoff a year ago, Baylor figures to take a step back this season. They lost coach Matt Rhule to the NFL, They gave up under 20 points a game in the Big 12 – an extremely impressive feat. Their defense lost a lot of production (9 of their 11 top tacklers) but they return Charlie Brewer under center and have some intriguing offensive talent to keep them competitive in 2020.
6: Iowa State
Brock Purdy took a slight step back last season, but he remains a top-tier quarterback within this conference. Iowa State didn't lose a single game by more than 10 points in the regular season last year, losing by more than 1 possession just once, losing five games by an average of 4.2 points. If they can turn some of those tight losses into wins, they'll be improving on this 6th-place ranking.
7: Texas Tech
Texas Tech will hope to win a lot games 52-49, or by other similar scorelines. They return a lot of offensive talent from their 4-8 team a year ago, but they also lost lot of pieces from a defense that was already giving up a whopping 7.2 yards per play.
8: Texas Christian
TCU has struggled recently after a solid stretch of success in the middle years of the decade. Freshman 5-star running back Zach Evans could make an impact this season, and their defense appears to be solid, if not great. Solid defense can be good enough to win in the Big 12, if the offense is clicking, so the Horned Frogs will need to get their retooled offense up to speed pretty quickly with a conference-only schedule ahead.
9: Kansas
Not last – what a shocker here for the Jayhawks! Kansas showed marginal improvement in the debut season of Les Miles, including encouraging wins against Boston College and Texas Tech. They also lost 10 seniors off their defense and will be breaking in a new starter at quarterback. Running back Pooka Williams should be the bread and butter of Miles' offensive scheme, and we'll see if he can bring the Jayhawks a win or two.
10: West Virginia
West Virginia averaged only 19.6 points per game last season. In the air-raid, offense-heavy Big 12, that's just not going to cut it. They could improve on that mark, with Jarret Doege returning under center and a promising group of receivers complementing him in the offense. However, the ground game is a major question mark after averaging just 2.63 yards per pop last season, so retooling the backfield and offensive line will be a must for the Mountaineers, if they are to stay competitive in any way shape, or form in 2020.
Offensive Player of the Year
Spencer Rattler- Quarterback, Oklahoma
Chuba Hubbard won this award last season, breaking a string of four straight Oklahoa players. Rattler is a 5-star recruit and figures to be an absolute stud in Lincoln Riley's system. Far be it from us to start doubting Riley's QB-whispering abilities now.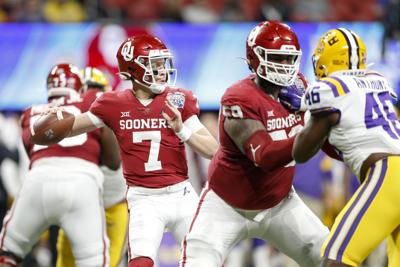 Defensive Player of the Year
Caden Sterns- Safety, Texas
Picking this award can feel like a crapshoot in a conference that routinely sees absolute slugfests, with both teams rising over 30 or 40 points. Stearns is an intriguing pick here, as he will have to be a leader for a Texas secondary that must improve if the Longhorns are to finally breakthrough.
Coach of the Year
Mike Gundy- Oklahoma State
The Cowboys haven't made the Big 12 title game since it was re-instated in 2017, as 20`16 was the last year they finished top-2 in the conference. They haven't taken home a Big 12 title since 2011, but they have as much promise as they've had in recent memory. Gundy came under fire this offseason for wearing a controverisal T-shirt in public, an act that was called out by some of his own players. If he can regain control of the locker room and get the Cowobys to the Big 12 championship, he is very deserving of this award.
Championship Game
Oklahoma vs Oklahoma State
Oklahoma wins 42- 31
To be the man, ya gotta beat the man. And it's not happening this year. Boomer. Sooner.