How does a college football team replace the most productive college quarterback the nation has ever seen?
This is the question Louisiana State and head coach Ed Orgeron will be asking themselves come the beginning of the 2020 season. Joe Burrow, the number one overall pick of the NFL Draft, passed for the third-most yards of all time and the most touchdowns, while only throwing six interceptions in the process. It is the best performance anyone has seen out of a college quarterback for as long as many can remember. As for everyone in college, though, moving on is just part of the game. Roster turnover is nothing new for LSU's four-year veteran head coach. The next-man-up mentality is one of the few pertinent ideas that every college coach knows.
Who is that next man up for LSU at quarterback?
Well, ladies and gentlemen, meet Myles Brennan.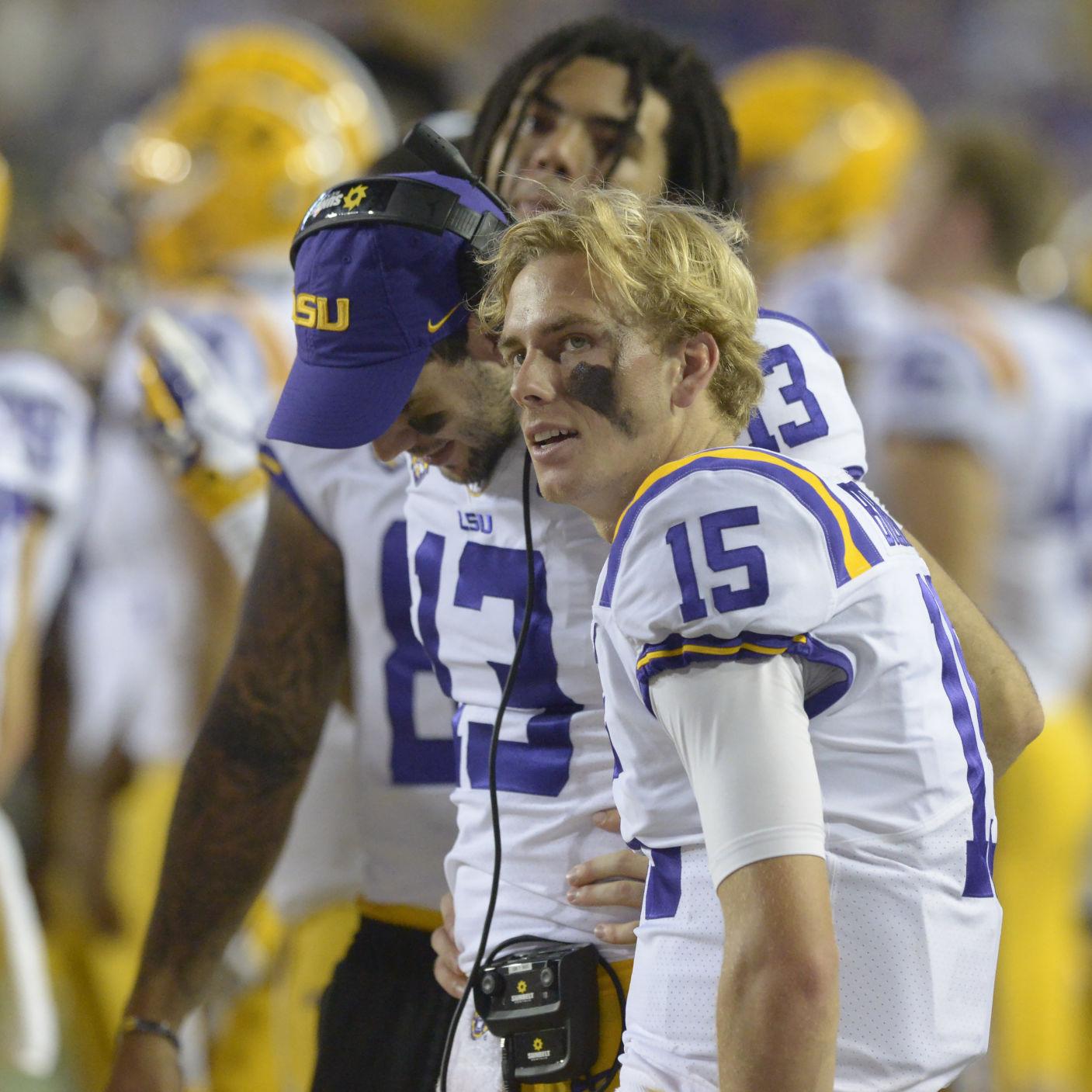 Before arriving in Baton Rouge, Myles Brennan tore up high school football in neighboring Mississippi. He was named Mississippi Class 4A Mr. Football his senior year in the Magnolia State. Despite these accolades, he was still only ranked the tenth-best quarterback in his recruiting class and the only blue-blood college football program to offer him a scholarship was his future team, the LSU Tigers.
During his freshman year in the Bayou, Myles did not get much playing time only getting snaps once a game was too far out of hand. Even with this small sample size, the future did not look terribly bright, as Brennan threw two interceptions on only 24 passing attempts with a completion percentage under 60%.
Not exactly the showing you hope for out of your four-star quarterback recruit if you are the LSU coaching staff.
Myles played only one game his sophomore year before Joe Burrow stole the show during Brennan's junior year. This junior year, despite backing up a legendary college quarterback, was a glimmer of hope for many LSU fans and coaches. Brennan still only was able to jump into games once they were all but over, still Myles made the most of his opportunities. His small sample size still limits the conclusions that are able to be drawn, but on an increased number of attempts, his interceptions decreased from his small freshman year stint. In order to see what Brennan brings to a revamped Tiger offense next year, I took a look at the few snaps he took in college and made some broad conclusions about what LSU can expect from the heir to Joe Burrow.
The thing that stands out on tape for me is Brennan's mind. I think this is and will be his greatest asset heading into whatever college football season we see this upcoming fall.
Brennan is cool under pressure, something that many hope to see in young quarterbacks. There were a few plays where, even as a freshman, he was willing to stay in the pocket for routes to develop even with edge rushers bearing down on him. With this pressure, he also did not panic a bad throw that ended up sailing to the other team, rather, he was keen to find checkdowns to let his receivers make moves after the catch to get the yardage they needed. This ability will allow him to lessen the interceptions he throws next year and let his talented skills players take the burden of getting yards down the field.
The second skill that truly stands out in this limited tape is Brennan's ability to trust his receivers. LSU had some of the most talented running backs, wide receivers, and tight ends in years past, and will have some of those players returning for Myles' senior year. Jamarr Chase is the number one receiving talent college football has seen in the last 10 years and is even threatening for the number one overall pick next year. Myles will need to rely on Chase and others to carry the load for him this season. Brennan has shown the ability to trust his receivers enough to throw the ball up to them when they're covered one-on-one and if he continues this, it will lead to many scores for the Tigers next year.
Brennan is not superbly talented with his arm, but where he does excel is similar to where Burrow excelled. Myles does not have A+ arm strength, but he is able to push the ball down the field when he finds it necessary. Myles is able to find tight windows and generally puts the ball in a spot where his receivers can do the rest of the work.
Will Myles Brennan be able to pull off what Joe Burrow did last year for LSU?
The answer will probably be no. However, if Burrow taught college football fans one thing in his Heisman season, it is to never count out a quarterback until he is given the chance to shine.